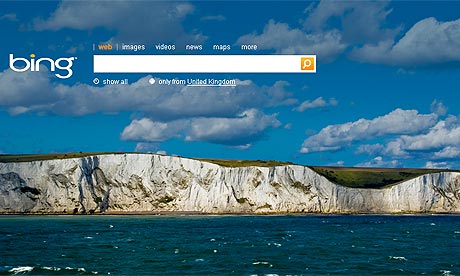 Microsoft's 'Bing and decide' campaign, starting on television this week, attacks 'information overload' of rival's results. Microsoft is to launch a multimillion-pound TV ad campaign for its search engine Bing, as part of a major marketing push designed to challenge Google's dominance of the UK search market, MediaGuardian.co.uk can reveal.
The campaign to promote Bing, the so-called "decision engine" that Microsoft is backing with $2bn, begins with a series of TV ads this week.
"This is a big moment – we are taking out our slingshots and taking on Goliath," said the managing director and vice-president of consumer and online at Microsoft UK, Ashley Highfield, adding that he believed Bing met a real desire from both consumers and advertisers.
The three-month campaign, which includes three TV ads created by the agency JWT, starts on Wednesday and uses the strapline "Bing and decide".
The ads aim to show that Bing simplifies the "information overload" that accompanies the results of many searches.
"People feel overawed by the internet and what they turn up when they are searching," said Highfield. "We are also in a world where people have forgotten there is an alternative search engine."
Microsoft will certainly have its work cut out winning over consumers – it currently holds about a 3% share of the search market while Google controls about 90%.
The ads feature ordinary people asking for information and receiving nonsensical, "speaking-in-tongues" answers; one early spot has a woman seeking directions to Euston station.
The TV campaign will run solidly for a month and then in two-week bursts until mid-June. It will be backed by a digital campaign across Microsoft's network and on media including social networking websites.
Highfield said that a key aim of the campaign was to contrast the "visually rich" Bing with the relatively austere-looking Google.
"It is a battle not just of mind but of heart as well," he said. "We are wanting to make an emotional connection – we are ploughing a different furrow here."
Content courtesy of The Guardian
https://www.guardian.co.uk/technology/2010/mar/08/microsoft-bing-tv-ads-google
More posts from our team
---